GRACE PERIOD IS OVER
Jens Hüls Funder
4.9.2021 – 4.25.2021

Photos by Brian Kure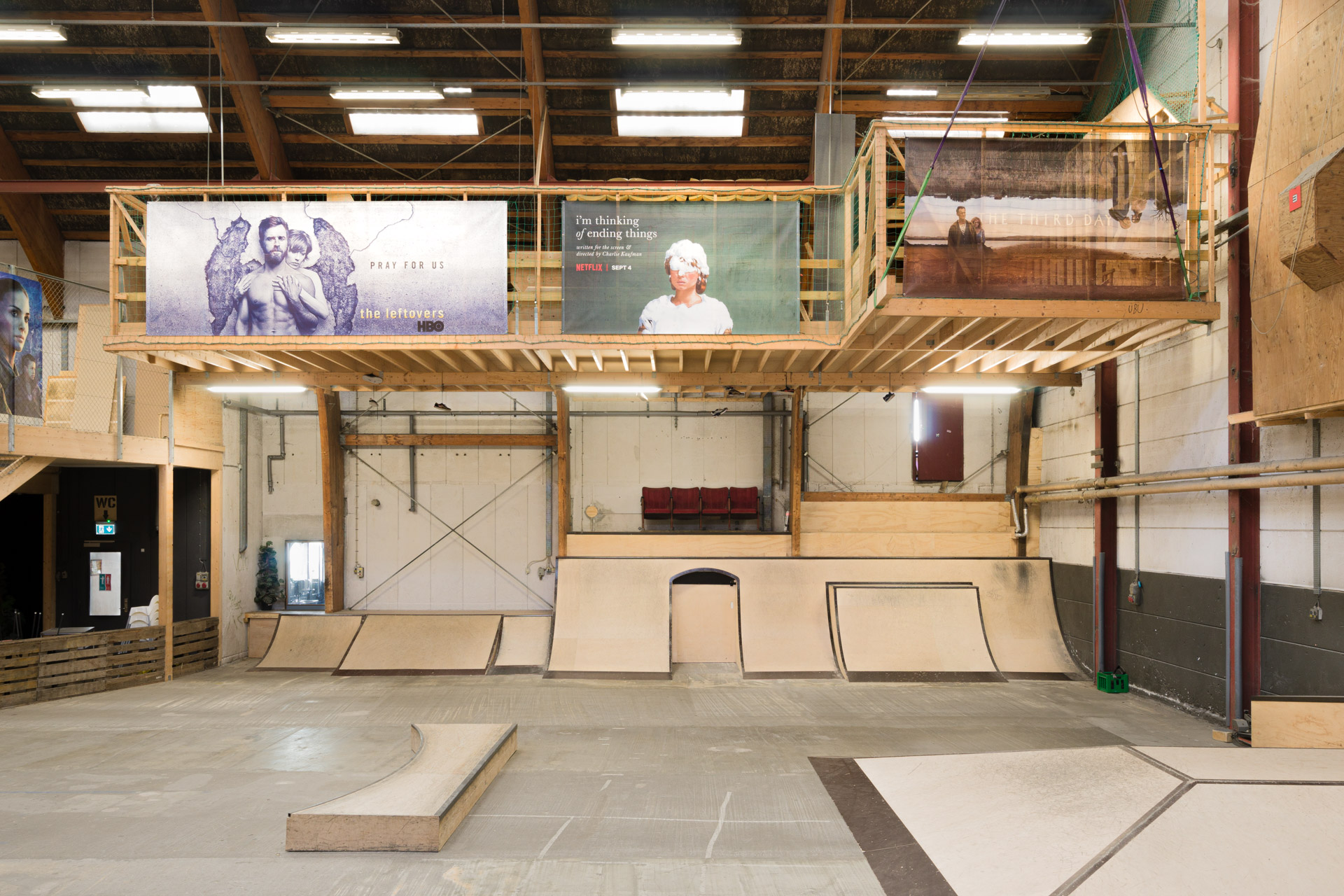 –

GRACE PERIOD IS OVER
is an exhibition by visual artist Jens Hüls Funder spreading across two different locations on Nexø harbour: The exhibition space Sol and the skate park Værftet.
The works at view in Sol are fragile sculptures of dried maple leaves, stitched together with shoelaces and hung on the walls. Letting ones own associations and memories connect to the works is allowed here. For the author of this text it all starts with an atmosphere: a non-particular autumn of youth, a walk in the park with eyes fixed to the ground, through haze and fallen leaves that, suddenly, open like hands, like brown baseball gloves; remedies from a foreign ball game only familiar from films and tv series.
In the skate park at Værftet Jens Hüls Funder exhibits large banners with commercials of contemporary TV-entertainment. The chosen commercials represent a specific tendency seen in the market of fictional entertainment that has followed the development of streaming services. It concerns the market of creative films and series: what in the 90s and 00s was labelled as 'indie' (independent), meaning independent and non-commercial film productions. The label is no longer applicable but the formal language and aesthetic logic from the 'indie' genre lives on in new commercial productions.
The distinction between what is called mainstream and what could be defined as 'independent', experimental or avantgarde, seems to be phasing out. Perhaps it could be seen as a sign of an industry coming of age. That a series like Twin Peaks can be called avantgarde in the most literary sense that it, in the early 90s, foreshadowed a tendency now fully visible. The tendency of TV-fiction not as much committed to the plot than to feeling and emotion. A dreamlike emotion carried by symbols and allegories and where the well-planned narrative has been replaced by a disruptive and fragmented expression. When algorithms and userdata calls for a more and more abstract visual language it becomes difficult to predict how imaginary tales will look like in the future.
Jens Hüls Funder (f .1985) is a Danish artist educated from The Royal Danish Art Academy in 2017.
Værftet is a skating facility located at Nexø harbour with christian values. Beside hosting a skate park, a playground and a youth center, Værftet is also, according to the institution itself, a place where dreams are born, matured and developed.
Signe Boe
March 2021
GRACE PERIOD IS OVER is curated and organised by artists Signe Boe and Sofie Amalie Andersen for the exhibition space Sol. The exhibition is supported by the Danish Arts Foundation, Øernes Kunstfond, The Obel Family Foundation and Møbelfabrikken i Nexø.
–
The exhibition in Sol can be visited on Fridays from 15h-17h and on Saturdays and Sundays from 12h-15h.
Visits to Værftet by appointment