Sentient Landscape
Kim Laybourn
6.26.2020 – 7.19.2020

Photos by Sofie Amalie Andersen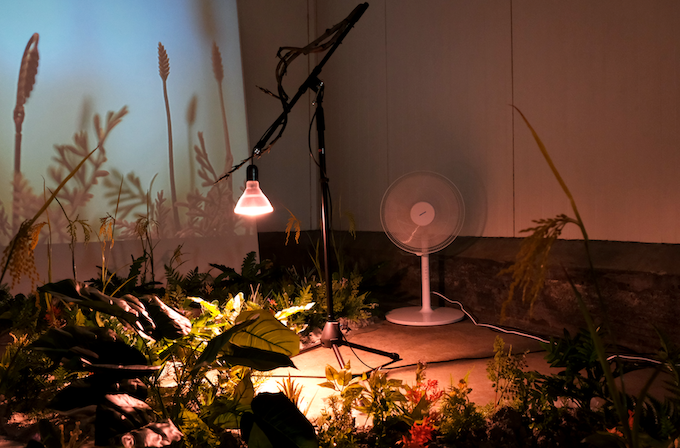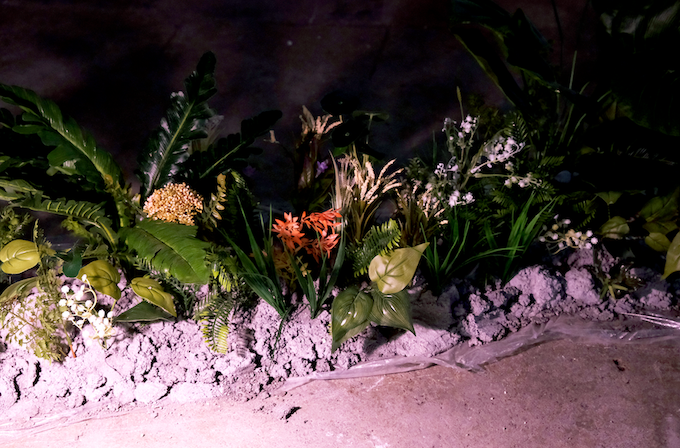 Sentient Landscape
"Creation is composed of the descending movement of gravity, the ascending movement of grace and the descending movement of the second degree of grace"

Excerpt from Gravity and Grace by Simone Weil

A soft wind blows through the landscape while alternating images of flowers, grass and heather appear. What seems like a field of poppies under a blue sky is seen in the background; next we are in a desert with cactus flowers and purple rock formations in the horizon. We hear sounds from the bushes, sounds of movement, of life. Or?
During the film projected on the wall in Sol, the small movements start to look more and more strained. The shape of the flowers changes while the crackling sounds intensify. Slowly we start to combine the sound and pictures and an unusual scenario emerge in front of us: a landscape in the process of a meltdown.
The word
Landscape
originally arose as a technical term among the flemish painters. In painting, an impression or illusion of a landscape can develop in the mind of the subject observing it. It is not essential whether the motif refers to a fictitious landscape or a piece of land existing in the physical world. Only for a short moment the relation to reality is central – then perception takes over.
The philosopher Georg Simmel wrote in his text
The Philosophy of Landscape
that contrary to the notion of 'a piece of land' the understanding of 'landscape' is dependent on it's own limitation. Because where nature is a boundless totality of a whole (and indivisible), the landscape has moved out from nature and in to a being for it self which only becomes visible under certain conditions.
In arts' many representations of landscape we are often reminded of the aspect ratio between ourselves, humans, and the wild, sublime nature. But in this exhibition by Kim Laybourn, the landscape is created by the artist himself – in collaboration with modern industrial production facilities – and there is no-one to mediate the experience for us. We are ourselves placed in the middle of the landscape, and during it's gradual meltdown we become more and more conscious of the powers that effect the landscape, change it and finally destroy it. Destructive powers that – as we learn during the film – are applied by the artist, the human, ourself.
–
Kim Laybourn (b. 1988, DK) graduated in 2019 with an MFA from Oslo Art Academy. He lives and works in Oslo, and at the moment he holds a studio grant from FKDS hosted at Kunstnernes Hus. The praxis of Laybourn spans installations, sound and music, text, sculpture, photography, print, animation, cgi and video. His works has been exhibited among other places at PODIUM (Oslo), Kunstnernes Hus (Oslo), Galleri CC (Malmö), Kunsthal Charlottenborg (Copenhagen) and latest at Studio 17 (Stavanger)
Text by Sofie Amalie Andersen, June 2020
Download publication here
Curated by Sofie Amalie Andersen
The exhibition is supported by:
Statens Kunstfond, Nordisk Kulturkontakt and Kunst- og Kulturhistorisk Råd (Bornholms Regionskommune)